Hi world today for blog I will be doing a part 2 on basketball shoe.
Giannis Immortality Force Field- The shoes I have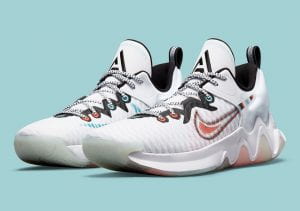 In my opinion I like the shoes because they are really comfy and nice looking. The part that I like about the shoes is the Nike logo and his family's name in the bottom of the shoes. I also like color because the shoes are very colorful and I like colorful thing. The shoes cost $105 plus tax is $128. The only reason why I bought the shoes is because basketball is coming up in our school and I don't have any basketball shoes that fit to me, and I got it because Elijah and Jayden got it and so we can match in basketball.
2. Kyrie 4 low
I think Kyrie have lots of good shoes. They look nice and they are comfortable. I used too to own one of his shoes but they are small too me so I had to give them to one of my cousin in the Philippines because they are small already and I'm pretty sure I only wear them like 5-7 times.  The part I like is the color of the shoes and the Nike logo and they have a very good grip on them. They cost $144 plus tax I'll say $160 ish. This is what the shoes look like
3. Jordan shoes
Ok, Jordan is best basketball player in NBA. He has a nice shoes, but the problem is that they cost a lot. I don't like his shoes that much but they look good. The part I like is the Jordan logo, because every time I buy basketball shoes all I see is a Nike logo. They cost $400 and I don't think it's worth it buying shoes that are 400 dollars.
That's the end of my blog bye!!!